How to create Instagram page for Business
In today's digital world, no one has time to read stories and go through every single detail. Everybody wants to grab everything in the shortest time possible and Instagram is all about that. It is among the top social network sites with over 1 billion active users every month.
Instagram will provide you with tools that can help you grow your business and reach a large audience. Brands and businesses get more options than ever which are very easy and helpful. If you are looking to create an Instagram business account for your business, then we are here to help you. We will be elaborating on how you can create a business account on Instagram. So, without any further delay, let's get started.
How to Create an Instagram page for Business?
An Instagram business account provides more marketing tools and services than a personal account. Creating a business account on Instagram is a simple process but can be done only by using the official Instagram application. If you have a Facebook business page then, you are already a step ahead of many businesses. However, if not, then click here and create a Facebook business page.
1 Open your account.
The first step will be to launch your Instagram app and logging into the account you want to turn into a professional account.
However, if you don't have such an account, you can create a new one for your business.
2 Go to your profile.
Now, go to your profile by clicking the "your profile" icon in the upper right corner.

3 Tap the "≡" icon.
Now, click the "≡" icon to open the menu bar present in the top right corner.

4 Click on the "Settings" option.
Scroll down to the bottom of the page where you will come across the "Settings" option. Click on this option to open all the settings related to your account.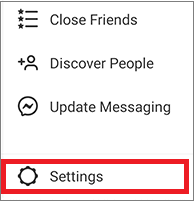 5 Choose "Account".
Now, choose the "Account" option from the list.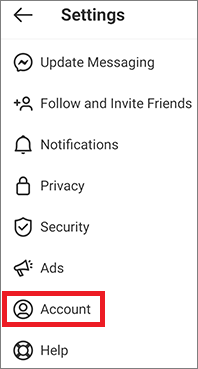 6 Tap on the "Switch to Professional Account" link.
Scroll down to the bottom of the page; you will come across the "Switch to Professional Account" link here. Click on it to change your account from a personal to a business account.
7 Tap "Continue".
Now, Instagram will show you some insights about professional accounts. Tap on the "Continue" button to move ahead.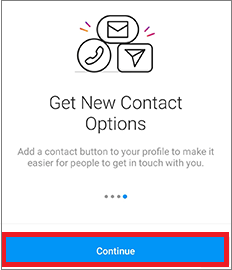 8 Select category and tap "Done".
The last step will be to select a category for your business. If you see a category related to your business, then, choose that or else you can also search for categories. At last, tap on the "Done" button after choosing a category.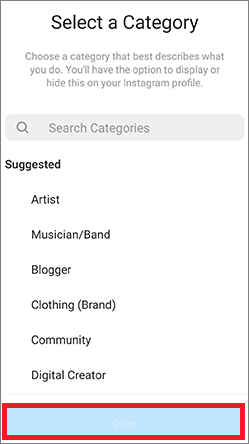 When you click the "Done" button, your account will be changed into a business account. Instagram has become one of the fastest-growing social networks and helping businesses around the world. More than 60% of people have accepted they have found new products through Instagram. It has become a new home for brands and businesses as you get more engagement from customers and your business goals can be reached in no time.
So, it becomes very important that you also use it for your business. Instagram provides some out-of-the-world features like real-time metrics which let you know how your stories, posts are performing, and insights about your customers as to how they are interacting with your posts and stories.
By following these easy steps, you have understood how to create a business account on Instagram. If you like this information, then, don't forget to share it and subscribe to our free newsletter.
Discount Coupons